The Mansfield Sports Complex
920 N Holland Rd, Mansfield, TX 76063
The Mansfield Sport Complex is located in Mansfield, TX, just off state highway 360. This location is generally used for games only.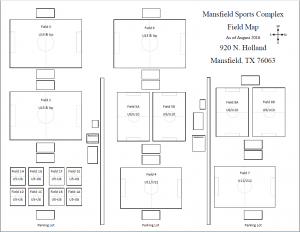 The Burleson Soccer Complex
550 NW Summercrest Blvd, Burleson, TX 76028
The Burleson Soccer Complex is located in Burleson, TX. Some games in the combined MSA/Burleson Independent Soccer Association games will be played at this location.
The Crowley Soccer Complex
1901 Longhorn Trail, Crowley, TX 76036
Other Fields used for Practice are Listed below
The Philip Thompson Soccer Complex
1701 N Holland Rd, Mansfield, TX 76063
Philip Thompson provides a lighted practice field for MSA teams.
Hardy Almon Park
270 N Walnut Creek Dr, Mansfield, TX 76063
Hardy Almon provides two full sized soccer fields for MSA teams to practice on. Each field is usually split between two teams.